GOLD
US$ 1,995.92 SILVER
US$ 24.23 PLATINUM
US$ 1,006.28 PALLADIUM
US$ 1,493.18

2020 Year of the Rat Gold Foiled Miniature Sheet with Coloured Stamp in Perspex Stand [2020년 뉴질랜드 포스트 쥐의 해 미니어처 시트 11.2 NZD 금박 컬러 금우표]
Year:
Mintage:
Country:
Face value:
Weight:
Metal purity:
Size:
Quality:
Technique:
2020
New Zealand
11.2 NZD
NONE
Gold .9999
18x10mm
Recommended Supplies : Not Find
※ Before placing your order ※

We inspect the products before shipment, there might be slight damage since some of the products are imported. Only graded items are guaranteed without any damage.
Damaged items will explicitly be labeled with photos, and the condition of these items will also be included in the title.

1. Much milk-spot is shown
2. Too many Scratches
3. MuchDiscoloration
4. Severe damage

Please check again before placing your order.
Payment is required within 24 hours of your purchase. There will be a penalty for late or missing payments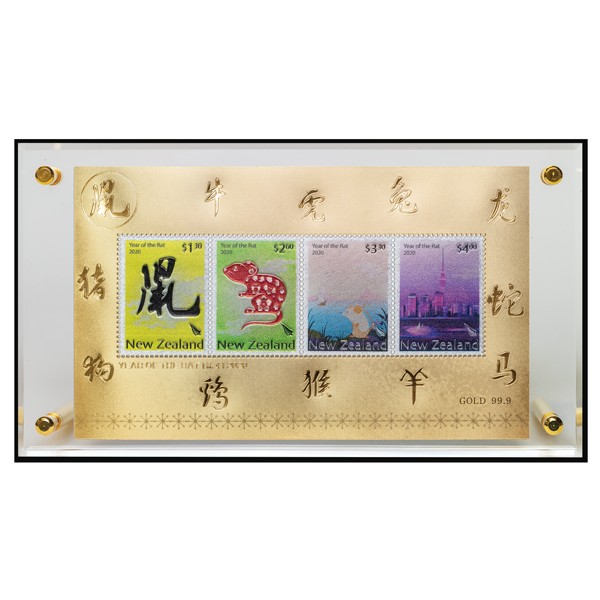 Made from 24-carat 99.9 gold foil, this miniature sheet has been embossed and etched with micro fine detail and is mounted in a Perspex display stand (measuring 18cm x 10cm). It features vibrant coloured stamps and is produced in limited numbers.

HEAD OFFICE
Coin's Today 12, Macheon-ro 28-gil, Songpa-gu, Seoul
05739 South Korea
info@Coinstoday.co.kr
+82-2-2088-6637
Mon-Fri (KR) : 10:30 - 19:00
Business Certification Number : 756-81-00534
mail order sales : 2017 - Seoul Gangnam - 01915

© Coin's Today. All rights reserved.

All trademarks are property of their respective owners in KR and other countries.